"Jason Anick's sheer joy in playing is evident from the first track on
Tipping Point
. While tipping his hat to Stéphane Grappelli, Jason maintains his own distinct voice -- especially in his own compositions. Equally gifted as a musician and composer, Jason attracts new listeners to the violin and mandolin.
Tipping Point
is an uplifting and refreshing project deserving of countless repeated listenings."
-
Regina Carter

"Jason Anick has given us some unique contemporary pieces for jazz mandolin. His playing has a wonderful clarity and creativity and his compositions offer a modern jazz approach to our instrument which is truly refreshing and inspired." - Mike Marshall

Talk to the abundantly gifted violinist and mandolin player Jason Anick and the phrase " jazz without borders" will invariably come up. What the axiom means to Anick is a contemporary jazz that is stylistically inclusive in nature, a jazz that brings whatever it can to the party, unwilling to cut something out of the mix for fear of it not fitting prescribed boundaries. An inviting demonstration of the maxim in action can be found on Anick's second album as a leader, Tipping Point (February 18, 2014). Utilizing both acoustic and electric mandolins in addition to his customary violin, Anick expands his musical horizons; those who associate his name with acoustic Gypsy jazz -- as heard so convincingly on his debut album, Sleepless, in his work with the Rhythm Future Quartet and with Grammy-award winning guitar virtuoso John Jorgenson -- will now find that pigeonholing Anick is fruitless. The album's title spells things out loud and clear: from this moment forward Anick's own music is rooted in the here and now, a time when possibilities reign.
Blending Anick originals that openly incorporate the influences of mainstream jazz, classical, new acoustic music, Gypsy jazz, swing, and hard bop with a wide-ranging swath of jazz classics from the likes of Django Reinhardt, Horace Silver, Hank Mobley and Ornette Coleman (along with a well-chosen standard, "The Night Has a Thousand Eyes"), Tipping Point declares that for open-eared members of the 27-year-old string master's generation, musical exclusion is a dead end. What tie together the various strains of Anick's vision are his extraordinary command of his chosen instruments and the spirited contributions of the like-minded players that accompany him on this musical journey.

To accommodate his concept, Anick uses two distinct ensembles throughout Tipping Point. For his five original compositions, Anick teams up with like-minded pianist Jason Yeager and pairs his violin and mandolins with the alto saxophone of Clay Lyons to achieve an atypical yet thoroughly appealing frontline sound. On the majority of the tunes by others, Anick sticks to violin and surrounds himself with a trio featuring the hard-swinging pianist Matt DeChamplain. (Coleman's blues "Turnaround" unites Anick's electric mandolin with the electric guitar of Lee Dynes.) The differing bands lend the album variety and suggest the unrestricted nature of Anick's current music making.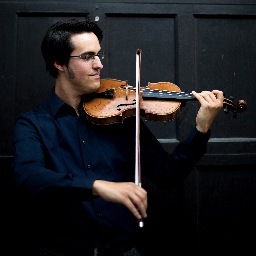 "There's a home in jazz for everything," Anick states. "I admire the embracing stance that contemporary musicians like Brad Mehldau and Joshua Redman take, allowing other musics to join with jazz. On

Tipping Point

I'm moving in new directions, trying different musical settings and types of composition. I wanted to show different sides of my playing and my writing. I see all the diverse musical influences as being interconnected. And there's beauty in interconnections."
The album also points to the Anick's new interest in using imagery to paint his musical pictures. "I try to visualize different aspects of songs," he explains. "Songs can become like musical movies; stories can come from the music and take a listener on a journey."
To that end, Anick never allows his obvious virtuosity to overpower the music's intent. "It's not about displaying technique," he states. "It's about creating a soundscape, an atmosphere for listeners to enter into." The shifting landscapes of Anick's own "Maryandra" and "Inspiration Point" are convincing examples of the leader's ambitions in action.
One of the youngest instructors at Boston's Berklee College of Music, Anick is rapidly making a name for himself in the world of jazz violin and mandolin. In addition to leading his own ensemble and performing with the Rhythm Future Quartet, Anick has been touring and recording with Grammy award-winning Nashville guitar virtuoso John Jorgenson since 2008 when he was recruited while still a senior at Hartt Conservatory.
Anick celebrates the CD with concerts in Boston, Portland, ME; Old Lyme, CT and NYC:
Thursday, February 6 - One Longfellow Square - Portland, ME
Saturday, February 22 - The Side Door- Old Lyme, CT
Tuesday, February 25 - Regattabar - Cambridge, MA
Tuesday, March 18 - Cornelia Street Café - New York, NY